It's highly likely that during this pandemic, most of us are working from home. Almost everyone is making their dinner, and chances are you're reading this while laying on your comfy couch. As we deal with the coronavirus, this might be the best time to catch up with some great fashion movies.
Most of us have exhausted our binge-watch movie list from Netflix. If this is the case, then it's time to revisit the old classics or bring out the new ones, more straightforward said than done, right? With so many choices available on OTT platforms, picking the right one is like finding a needle in a haystack.
But fear not, as we've prepared a specially curated list for you to get in the high fashion groove. So bring out your popcorn and get comfy on that couch. You'll indeed find one to watch from the best fashion movies we have selected for you.
Best Fashion Movies on All OTT Platforms
The Devil Wears Prada (2006)
IMDB – 6.9/10, Reviews
Starring Meryl Streep, Anne Hathaway, and Emily Blunt, 'Devil Wears Prada' is a film that revolves around Andrea Sachs. She lives in New York and just graduated in journalism. Andrea gets hired to work as the second assistant for Miranda Priestly, the ruthless executive of a runway fashion magazine.
Sachs dreams of becoming a journalist and treats her current work as a bit of an obstacle. Miranda's first assistant Emily, teaches Andrea about the preferences and choices of their boss. While Nigel, her stylist, helps her dress as per the requirements of the occasion.
After being ushered in this harsh environment, Andrea changes her outlook on life. This affects her personal life in ways she would never have imagined.
Follow Anne Hathaway in her exceptional journey from being a naive assistant to being one of the best in her field. Definitely one of the best fashion movies out there. Available on Disney+ Hotstar.
Fashion (2008)
IMDB – 6.9/10, Reviews
Starring Priyanka Chopra and Kangana Ranaut, the plot is set in the backdrop of the glamorous world of fashion. Despite being glittery, the world of fashion is a ruthless place that devours everyone.
The film follows a small-town girl named Meghna who has big dreams. Meghna knew she was meant to be famous but never knew the hard work and controversies that track the success.
Soon she gets embroiled in the shady world of backstage dealings and learns the hard way about the price one has to pay for success.
The movie resembles 'Devil wears Prada', in the sense that a young, naive girl gets swayed by money and fame. In the process, she loses grip on her humanity with no moral courage to do anything about it.
Like a typical Bollywood film, the movie has two parts, and both serve the intentions well. "Fashion' teaches us that we should not let success get to our head as we can quickly lose grip on reality. The movie is available for stream on Netflix.
Funny Face (1957)
Dick Avery, a fashion photographer, is searching for an intellectual backdrop to please his air-headed model. In his search, he comes across the Greenwich Village Bookstore. At the end of the photo shoot, the crew leaves behind tons of garbage and leaves the store in shambles.
Jo Stockton, the salesgirl, is left in dismay seeing the mess around her workplace. Avery feels terrible for her and stays behind to help her clean up.
Later in the day, he examines the photos from the session and gets intrigued by Jo in the background of one shot. He gets captivated by her unique appearance, and so does Maggie Prescot, an editor of a famous fashion magazine.
Soon they offer her a contract which she agrees to because it includes a trip to Paris. Eventually, her attitude towards the job changes as she travels with her handsome photographer. The movie is assured to give the audience a marvelous time to convey a story of fashion and romance elegantly.
Zoolander (2001)
IMDB – 6.6/10, Reviews
Starring Ben Stiller, Owen Wilson, and Will Ferrel, 'Zoolander' is a movie that's bound to give you laughs. The story is about Derek Zoolander, the famed three-time model of the year for VH1.
In a sudden twist of events, Hansel wins the award instead of Derek, which causes his world to turn upside down. Suddenly, he cannot contact any of his friends. His father is highly disappointed and stops talking to him.
The disastrous chain of events makes Derek doubt himself as a model and thinks his career is over. Noticing his downfall, Mugatu, the evil fashion guru, hires Zoolander to be his model. Derek believes his life is back on track. But later realizes that Mugatu has brainwashed him into killing the Malaysian Prime Minister.
Will Zoolander and his new friends figure out a way to stop his evil plans before it's too late? A terrifically well-made movie that's filled with hysterical stupidity. The side characters keep on adding gimmicks to keep the audience engaged.
Dries (2017)
IMDB – 6.9/10, Reviews
The story takes you on an intimate journey and portrays the life of the notable fashion designer, Dries Van Noten. As an extraordinary figure in the fashion industry, the film offers an insight into the creative mind of the master fashion designer.
In a world full of collaborations between the big fashion brands, Dries maintained his individuality and originality. He has remained independent in the cutthroat world of the fashion industry for almost 25 years.
In this magical tale, director Reiner Holzemer follows Dries for over a year. During his time, he gets to witness the creation of four collections. The movie aims to teach its audience about the ingenuity of a quiet achiever who never lived an eccentric life but has earned his validation from the industry—one of the best fashion movies on Netflix to watch if you want the glamorous life back.
Jeremy Scott: The People's Designer (2015)
IMDB – 6.5/10, Reviews
'Jeremy Scott: The People's Designer' tells the exceptional tale of Jeremy Scott, a young boy from a small town in Missouri. The plot follows the ascent of Jeremy from being an ostracized gay kid to the creative director of Moschino.
As a young high school kid, Jeremy was bullied extensively. It grew to the point that his parents had to send him back east to a fashion school. While studying fashion, a lot of opportunities came the way that catapulted him to global fame.
Though Scott comes across as a naive guy, who doesn't take himself too seriously, one can easily see through the camouflage that he is a very self-aware guy who sets high standards for himself.
The film is a tad bit long, but you'll eventually find yourself rooting for Jeremy. One of the best fashion films on Netflix to watch if you're craving some high fashion.
Manolo: The Boy Who Made Shoes For Lizards (2017)
IMDB – 6.4/10, Reviews
'Manolo: The Boy Who Made Shoes For Lizards' portrays the life of Manolo Blahnik. The in-depth portrayal feels as if the audience is walking in his shoes. Ever since he was young, Manolo was in love with making shoes and became a confessed cobbler.
Eventually, through sheer hard work and passion, Blahnik grew up to become the most influential figure in the fashion industry. Many famous personalities, such as Naomi Campbell, regard him as the best shoe-maker of the 20th and 21st century.
Dramatic moments are coupled with interviews of many models and actors. An excellent watch for individuals who love design, from students to industry specialists, truly is for everybody.
McQueen (2018)
IMDB – 7.8/10, Reviews
Based on the real-life of Alexander McQueen. The story takes us on a rags-to-riches journey as Alexander's life is nothing less than a modern fantasy tale. Directed by Ian Bonhote and Peter Ettedgui, 'McQueen' gives an all-inclusive perspective of Alexander's talent.
Inspired by Gothic art, McQueen made sure to include the savage beauty of the culture in all his pieces. His designs possessed a certain degree of boldness and vivacity that enamored anyone who contacted him.
The documentary offers an intimate revelation of McQueen's personal life. It aims to celebrate the mesmerizing genius and the radicalism Alexander brought forward in the world of fashion. One of the best fashion movies on Amazon Prime Videos.
Franca: Chaos and Creation (2016)
IMDB – 7.6/10, Reviews
Director Francesco Carrozzini offers a personal portrait of his extraordinary mother, Franca Sozzani. Franca is the lead editor of Italian Vogue and is considered a legend in her field. From noteworthy to bold, her mesmerizing yet controversial choices have shaped the fashion industry.
Her magazine covers are known for breaking the rules for the past 25 years. With her sublime choices, Franca has set a high bar for art and commerce. She is responsible for the groundbreaking 'Black Issue' and 'Plastic Surgery Issue.'
To date, Sozzani remains committed to her cause of exploring topics that most won't dream of. Her sporadic choices have shaken up the status quo of the fashion world and even redefined the meaning of beauty sometimes.
Francesco includes interviews with multiple well-known personalities like Courtney Love, Bruce Weber, and many others. Carrozzini offers an in-depth look at his mother's creative process. He made sure also to include the vulnerabilities she faced throughout her career.
'Franca: Chaos and Creation' can be best described as an emotional letter from a son to his mother—one of the best fashion movies on Netflix by a mile.
House of Z (2017)
IMDB – 6.8/10, Reviews
'House of Z' follows the meteoric rise of Zac Posen, a fashion designer who rose to fame at the mere age of 21. Though he had a successful start, years later, his brand fell off the market. Still, Zac never gave up and welcomed the challenge of building his brand from the ground again and his reputation himself.
Though the film is about the life of Zac Posen, the creative genius, it also offers a look behind the glamorous world of one of the most notable brands in the world.
'House of Z' connects with the audience and offers an entertaining and tragic experience. The film will keep you on edge, as eager and anxious as ever, from the initial tribute to the last name on the end credits.
Madman: The Steve Madden Story (2017)
IMDB – 6.6/10, Reviews
Steve Madden, the incredible man responsible for the billion-dollar industry. Through 'Madman: The Steve Madden Story' we get to witness the rise, fall, and resurrection of one of the most notable figures in the fashion industry. His branded shoes are almost inside the closet of every American household. Practically every woman under 30 in America has one or more than one Steve Madden shoes.
The film puts the audience in the shoes of Steve Madden as we follow him and witness how he rebuilt his life after being imprisoned because of his entanglement with Jordan Belfort, the infamous wolf of wall street. A fascinating and captivating documentary that showcases the charisma of Steve Madden can be termed as one of the best fashion movies.
Casablancas: The Man Who Loved Women (2016)
IMDB – 6.1/10, Reviews
A stunning film on the mind-blowing life of John Casablancas. With incredible music and great editing, the director brings the documentary to light. It brings all the glamorous tidbits you need to lighten up your everyday life. This is a narrative that you can watch like fiction.
At last, a story that occasionally shows reality can be superior to fiction. One can see an extraordinary film about John Casablancas from his young age to his legendary meetings with David Letterman.
It is blended in with another approach to utilize activity inside a narrative. You'll likewise love the voice-over by John Casablancas; it causes the film to be cozy up, so you feel as if you are walking in the shoes of the character. Try not to miss it! It is one of the fun, slick, delightful, and creative fashion movies you might want to check out on Netflix.
Coco Before Chanel (2009)
IMDB – 6.7/10, Reviews
Gabriel Chanel started her career working in a local bar. Her father gave her the nickname Coco and left her in an orphanage, promising to come back. Several years passed by, and when no one returned, Gabriel realized she must fend for herself from now on.
As she grows, Chanel begins to accumulate different skills. From working for the seamstress as a performer to working as a singer, she was everywhere. Her relationship with Baron Balsan provides her with the much-needed opportunity of entering French society. There she got a chance to improve her talents and work on making exquisite hats.
Soon after, she falls in love with Arthur Capel, an English businessman, which opens up further opportunities. Her life begins to get complicated day by day as she grows in fame and stature—the incredible story of rags to riches displayed in a well-dressed way.
Dior and I (2014)
IMDB – 7.3/10, Reviews
'Dior and I,' the documentary provides its audience with an in-depth look at the behind the scenes of the fashion house Christian Dior. The opening credit starts with the CEO of Christian Dior introducing the staff to Raf Simons, the new creative director.
It becomes clear that Raf never lived in the glamorous world of fashion and was always a simple guy. Despite his background, he was given a shot with one condition, to come up with a new collection in only eight weeks.
While ensuring that the grueling task is completed before the deadline, Raf comes across various personalities such as Pieter Mulier. The tension keeps building up as the deadline comes closer and closer. Observing how Raf manages the pressure upon the arrival of the assortment's debut, that by itself merits seeing this narrative—often regarded as one of the best fashion movies to watch.
The September Issue (2009)
IMDB – 7.1/10, Reviews
'The September Issue' revolves around the legendary Anna Wintour. The film offers an exclusive look into the scenes process of the September 2007 issue of Vogue Magazine. The shots are filled with creative directors, photographers, and members of the editorial staff.
The audience gets to witness the creative geniuses Anna Wintour and Grace Coddington, the stylist who fears no one.
The director sends a subtle message to everyone that the fashion world is relatively superficial and perfect. You don't need to be a fashion maniac to cherish this film; you don't need to be a supporter of Vogue.
Most importantly, you don't need to be a lady. Whatever your assumptions about this were, disregard them—this a film for anyone that ought to be seen by everyone.
Valentino: The Last Emperor (2008)
IMDB – 7.2/10, Reviews
'Valentino: The Last Emperor' is a story about the bond between Valentino Garavani and his business partner, Giancarlo Giammetti. The film takes a retrospective look at haute couture as a business.
We get to have an exclusive look at behind the scenes of the springtime collection of 2006 in Paris. To celebrate Valentino's 45-year career in 2007 he had the honor of dressing Jacqueline Kennedy.
The movie showcases all the business changes and important decisions that were made during that year. From a mere sketch to the final runway show, it's evident that Valentino longs for beauty and perfection.
During his star-studded career, he received the French Legion of Honor medal. The director, Matt Tyrnauer, catches the substance of the one who ruled the fashion world. Many of us don't get an opportunity to see besides in films this way, or magazines. Widely recognized as the best fashion films to watch.
Sex and the City (2008)
IMDB – 5.6/10, Reviews
The plot revolves around Carrie Bradshaw and Mr. Big. After moving in together in their dream apartment that's impossibly beautiful, they both decide to get married. But soon, they realize that planning a wedding is no simple task.
Their guest list, which initially stood at 75, quickly grew up to a staggering 200. To keep their costs low, Carrie picks out a simple wedding gown that was label-less. But soon, the dress blew up, making her look like a massive puff.
The wedding is generating broad interests from the public and a photo spread in Vogue magazine. Carrie's friends Samantha, Charlotte, and Miranda are extremely happy for Carrie but not for themselves.
Samantha is finding it extremely difficult to be in a loving and serious relationship. Charlotte still dreams of getting pregnant, and Miranda finds out his boyfriend cheated on her.
Sex and the City 2 (2010)
IMDB – 4.5/10, Reviews
It's been two years since Carrie Bradshaw and Mr. Big got married. The man she always dreamt of being with. Her friends are at different stages in their lives. Charlotte now has two daughters and must learn to deal with their terrible twos.
Carrie also now must come to terms with her relationship that's worsening day by day. Big is an old-fashioned guy and likes to watch black-and-white films. He also doesn't like the experience fine dining offers and usually eats take-out foods.
All this takes a toll on her as she no longer feels like the party girl she once was. Meanwhile, Miranda got a new job, and her boss hates her as he doesn't know how to handle a smart girl like her.
Samantha works in the public-relation department that bags her an all-expense trip to Abu Dhabi with her girlfriends. An escapist fantasy that offers a good laugh and a good time to its viewers. One of the best fashion movies on Netflix.
So this was the list of fashion movies that we loved so far. Do you know any good ones that we missed? Let us know in the comments below! Check out other lists from us if you liked this one: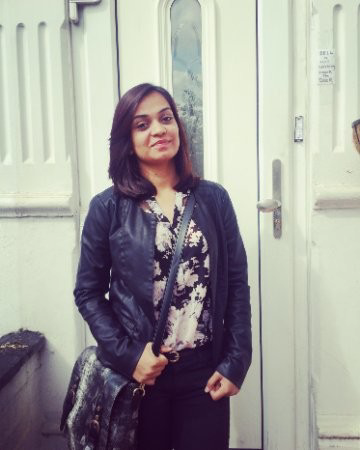 Jahnavi is a content writer who loves to binge-watch on Netflix, Disney+, and Prime in her free time. She loves to discuss plots, stories and characters – real and imaginary with anyone who enjoys it.