We all go through dejected moments when it feels like there's no purpose in our lives. In this modern world, there's dog-eat-dog competition everywhere. Especially when it comes to motivational movies for students, many kids don't even know what to search for and instead end up watching typical things on the internet. Lack of confidence has become quite common these days where one wants to give up just after starting something. 
The old orthodox notion that students can only get motivated inside a classroom is long gone now. It's become quite evident that children love entertainment activities that are fun and intuitive at the same time. One easy way to motivate them is through movies, and viewing films at home or the classroom has become easy. With projectors and smart screens, young ones can be easily inspired by a heartfelt film.
To ease your pain of going through hundreds of movies, we have compiled a list of 21 motivational movies for students.
Top Motivational Movies for Students When They are Down
Good Will Hunting (1997)
It's quite hard sometimes to believe in yourself until someone gives you the courage to do so. We all have dreams in our lives, and so did Will Hunting, who worked as a janitor at M.I.T. His only problem was that he required psychiatric help to decide his purpose in life.
Will had an exceptional gift of solving any mathematical problem present in front of him. However, he couldn't solve one of the biggest problems, his inner demons—everything changes when he meets his soulmate, which allows him to open his heart and soul.
The script is witty and well-written, bringing out the laughter, the tears, and the smiles—one of the world's best motivational movies for students. 
Lean On Me (1989)
Principal Joe Clark was once the principal of an inner-city school, famous for its successful students. After getting fired because of his arrogant nature, Joe is called upon once again to improve this decaying school.
He returns to find that the students are using drugs in the classroom, and gang violence is everywhere. Hell-bent on improving the situation, Joe uses unorthodox means and is eventually successful. Yet all his work can be undone as his over the top methods leads to clashes with city officials.
A truly inspiring film about a principal who was willing to do anything for his students: he never gave up and stood for them in the toughest of times, ensuring their future is secure.
The Paper Chase (1973)
James T. Hart has always been a hardworking student who never gave up on a challenge. But now, he has to face immense peer pressure in his first year of Harvard Law School. There's cut-throat competition in the classes, and to improve the grades, many formed study groups.
His professor, Kingsfield, teaches contract law, the subject in which Hart faces many problems. Kingsfield also has a habit of asking questions using Socratic methods. Every student is expected to answer accurately and creatively or else faces humiliation.
As the course proceeds further in the year, James meets Susan, and they soon get close to each other. Not knowing how things will pan out, James is all prepared anyway to face whatever has to happen ahead.
One of the treasured movies of old times allows the audience to experience a college student's life as if they were there.
21 (2008) 
Ben Campbell is studying at M.I.T. and is considered to be highly intelligent and ambitious. He dreams of becoming a doctor and is hoping to grab a scholarship to get into Harvard School of Medicine.
But as fate would have it, Ben's family was poor and couldn't afford his college fees. With seemingly no way to get into Harvard, Ben thought about giving up on his dreams. One evening, he comes across an unorthodox professor named Micky. He introduces Ben to five other students and inducts him into the small and secretive club.
The real purpose of the club is revealed as they take a little vacation to Vegas and gamble. The only catch point is that they're quite exceptional at counting cards and always end up winning. Ben is intrigued by this plan and hopes to earn enough money for his college fees and get out. But as one of his partners predicted, Ben becomes enamored by the money they are taking in and gets greedy.
The visual effects added to the film's suspense, and the chemistry between the characters led to laughter, sadness, and happiness. Watch this movie on Netflix here.
Forrest Gump (1994)
Forrest was born with a relatively lower I.Q. Nonetheless, he was a simple and kind man. He lived a normal childhood and spent most of his time with his best friend, Jenny. Forrest's mother had taught him to be a good man and choose his destiny on his own despite being slower than his peers.
During his youth, a Vietnam war occurs and he gets himself enlisted in the army for service. He quickly rises to ranks in the military and gets highly respected by his subordinates. According to his friends, Forrest is a role model as he wins medals, donates, meets the president, and inspires others.
But all of this was irrelevant to him as he only cared about his childhood sweetheart, who messed up her life. A powerful yet charming film that teaches its audience to love each other without any reservation. Watch this movie on Netflix here.
The Theory of Everything (2014)
'The Theory of Everything' revolves around one of the most well-known physicists of the modern era, Stephen Hawking. The plot captures his relationship with Jane Wilde, his wife with whom he fell in love at Cambridge.
Nothing exceptional was expected from Stephen as he was diagnosed with a fatal illness and had two years to live. However, after falling in love with Jane, he became galvanized and went on to be called the successor of Einstein. Now a husband and a proud father of three children, Stephen's renown for his brilliance was spreading throughout the world.
As he became famous day by day, fault lines in their relationship emerged that tested their relationship. Eventually, all the turmoil led to both of them taking different paths in life.
An immensely satisfying film that portrays the love story of one of the most brilliant minds on our planet. Hence, it got added to the motivational movies for students' list. Watch it on Netflix over here.
The Social Network (2010)
On a portentous day in 2003, the intemperate programming virtuoso, Mark Zuckerberg, sat down in front of his desktop. On his mind was just one question, how to build something that can revolutionize how we communicate. His new undertaking began in his apartment and went on to make a significant impact. He didn't anticipate that his little app would turn into a worldwide conglomerate that changed how we connect.
A short six years after, Facebook had more than 500 million individuals on its network. This was just the start as Mark Zuckerberg turned into the youngest billionaire in history. He further changed how web-based media stages work and how we as people associate with one another.
An enamoring tale around one of the world's most influential organizations and how everything began: 'The Social Network' is a spearheading film that can motivate youth and is an excellent film for business visionaries. And you can watch it over here.
The Breakfast Club (1985)
Five students, despite being in the same school and class, have nothing in common. They all live in their separate little worlds where each of them lives their dream life. This was all until they all were put into detention, and Mr. Vernon was supervising them.
The 9-hour detention took place in the school library, where they were supposed to write a 1000 words essay. The topic of the report, who they think they are in the world. If they intended to complete the work they were assigned, then generic work was expected.
But the adventures they go through during those 9 hours change their perception of who they indeed are. It's better to think about your high school days while watching this film and get in the characters' shoes. The character development is impressive and makes it stand out.
Freedom Writers (2007)
The movie is set in Long Beach, California, during the '90s about a girl named Erin. She is a romantic person who recently started a job at Woodrow Wilson High School as a freshman and sophomore English teacher. The school recently started a voluntary integration program that brought about the academic downfall.
Erin applied for this position after seeing the offer as she was ecstatic about this new program. However, she had no idea about what she was getting into. These students live by a strict moral code as most of them are in gangs and will do anything to protect their own.
This film has the power to remind its audience that the opportunity is not equal for all in America. To survive and feed themselves, many turn to a life of crime. A heartwarming movie that should be taken with a grain of salt.
Life of Pi (2012)
The film begins with a writer approaching Pi Patel, the storyteller, and asks him about his life story. The story starts in Pondicherry, India, where Pi spent his childhood and got his nickname. His father was the owner of a zoo, which the municipality supported but later withdrew their support due to lack of funds.
This unprecedented problem meant that the zoo could no longer be run. Hence the family decided to sell their animals and shift to Canada for a better life. They get on board a Japanese cargo ship along with all the animals.
The seas are quite unpredictable, and out of the blue, a storm approaches and shipwrecks them. Pi somehow survives and gets on a lifeboat along with a few of his animals. Among them are a hyena and the famous Bengal tiger.
Pi must find a way to survive the thirst, the hunger, and the hungry animals. A fantastic film that captures the bond between two hungry creatures, a tiger and a human. The acting and animation are incredible that complements the extraordinary tale of faith and friendship.
Stand and Deliver (1988)
Jaime Escalante is an unorthodox mathematics teacher who teaches at a local school in a Hispanic neighborhood. After teaching and observing his students for a while, he becomes convinced that they have the potential.
Although they were members of different gangs and no one expected anything from them, Jaime did not give up. He adopted unconventional methods of teaching them calculus. In the end, all his efforts paid off as everyone passed the Advanced Placement Exam in calculus.
One of the best films in this genre shows how a loving teacher and his students overcome every little problem.
Boyhood (2014)
The movie was filmed over 12 years, capturing every moment of Mason from childhood to adulthood. The story is showcased through the eyes of a child who quite literally grew up in front of a camera.
'Boyhood' took over this rocky genre of depicting childhood and made a groundbreaking movie like no other. From road trips to birthdays to graduation, every snapshot flows like water as the moments become transcendent.
A reflective film that pays its tributes to fantastic ways of parenting as well as growing up which makes it necessary to get added in this list as one of the motivational movies for students.
Rush (2013)
The glamorous world of Formula 1 racing appeals to all, the fast cars, the girls, the fame, and the money. But reaching this stage is quite challenging, let alone be at the top of everyone. 'Rush' is a true story about James Hunt and Niki Lauda, who were the best in winning races.
Their rivalry started even before they were in Formula 1.
The movie captures their personality both on and off the track, where James was a playboy and Niki was a methodical man. The spectacular season of 1976 is the main focus as both the drivers were willing to put their lives on the line to become the world champion.
A single mistake can lead to their deaths, as this sport has no margin for errors. A fantastic movie that inspires its audience never to give up no matter how bad the situation is.
The Blind Side (2009)
Featuring Sandra Bullock, Tim McGraw, and Quinton Aaron, 'The Blind Side' depends on the real-life story of Michael Oher. With no idea about his dad and his mom being a druggie, Michael had no foreseeable future or ways to transform it. This all changed when he was taken in by Leigh and Sean, who shielded him and gave him a chance to succeed.
Through sheer assurance and a will to accomplish something, he began working day and night to make it big. John Lee Hancock, the writer, and director of this film showcase the power of adoration and backing as Michael got picked in the first draft in the N.F.L.
The Pursuit of Happyness (2006)
Christopher Gardener is a persevering man who figured he could make a fortune selling bone density scanner machines. He invests vigorously in them, not realizing these machines just being somewhat in a way that is better than x-ray gear.
As expected, these gadgets don't sell that much as they cost a ton. Gardener's better half left him as he lost his loft and struggled to support his family. Presently compelled to live in the city, he had no way out other than to take on an unpaid temporary job. His new work was to be a stockbroker and dominate it for a half-year on the off chance that he wanted a permanent position.
Before he can begin working permanently, Christopher can only sell his bone thickness machines to feed his son and himself.
This film will make you chuckle, cry, and you will feel honored watching this film—a genuinely endearing encounter and an encounter worth having—one of the world's best motivational movies for students.
Warrior (2011)
Two brothers who don't see eye to eye now face a fight of a lifetime. The brutal world of M.M.A. rides on high-stakes involving money and blood. Tommy Riordan, after serving in the marine, returns to his hometown, Pittsburgh.
In need of money, he asks his father, a former boxer and a recovered alcoholic, to be his coach for the new M.M.A. tournament. This time the rewards are the highest there has ever been in the history of the sport.
Tommy's brother, Brendan, who used to fight in M.M.A. but quit to become a school teacher, wants to make a comeback. Although many years have passed, the past betrayals have not healed, and his relationship with his father and brother is estranged.
However, Brendan's sudden rise in M.M.A. means they have to cross paths again, this time for glory. Great performances and in-depth character development throughout the movies make up for a good watch.
Half Nelson (2006)
Dan Dune is a multi-talented teacher who teaches history in class while also coaching the girls' basketball team. His superiors were very annoyed when he chucked the school's curriculum and started teaching his way.
This unconventional way of teaching allows him to capture the student's imagination, which makes learning easy. At Least in the classroom, it looks like his life is in control, but outside he is a real mess. His illicit drug usage is taking a toll on his mental health and relationships with others.
Drey feels like an outcast teenager in his class since his parents are divorced. She notices the drug habit of her teacher and confronts him about it. This leads to an unexceptional relationship between them as she sees Dan as a father figure in her life.
'Half Nelson' starring Ryan Gosling, who without a doubt gave one of the best performances of his career. His character makes the movie come alive as you experience pain, anger, guilt, and happiness along with Dan.
The Internship (2013)
Many didn't take the internet seriously when it came out, especially Billy and Nick. Their jobs as salesmen no longer exist because of the digital age. In hopes of proving that they aren't boomers and can still adapt with the younger generation.
They somehow talk their way in an internship at Google surrounded by bright young college students. But getting the internship is only half the battle won. To prove they aren't too old, they now have to compete with tech-savvy kids that are half their age but more zealous than them.
A good comedy and a serious film about two middle-aged guys searching for a job make it thoroughly enjoyable.
Everest (2015)
Robert Edwin Hall and Scott Fisher's real-life story, who on May 10, 1996, joined their expedition groups together to ascend Mount Everest. As they get ready for their final climb to the top, out of nowhere, a deadly storm starts brewing around the mountain.
The blizzards from the mountain are some of the fatal storms known to man. The adventurers now face a difficult time as they cling to their lives. They must survive through freezing temperatures and blistering winds without any hope of help.
It is an intense drama thriller that keeps you engaged and on the edge of your seat.
The Great Debaters (2007)
Marshall, Texas, is widely regarded as the last city to surrender after the Civil war. The infamous Wiley College is situated here and the well-renowned professor Melvin Tolson. In 1935-36 he was inspired by the Harlem Renaissance and his work as a union organizer.
His extensive knowledge helps him teach a group of debaters from school and leads them to a nearly undefeated season. The long run of a win means that white and black students will face off for the first time in history. Their debating team consisted of four members. Among them was a young James Farmer who, for his age, had experienced a lot.
When the nation was in need, they stood up and gave everyone hope. A fantastic story based on real events that have the power to inspire and uplift anyone going through a difficult time.
These were the motivational movies for students we found so far. Do you have any movies that we missed? Let us know in the comments below. Here's another list you might want to check out: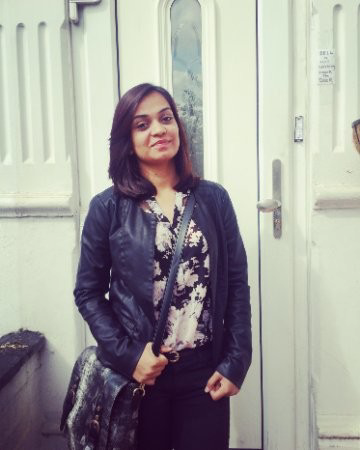 Jahnavi is a content writer who loves to binge-watch on Netflix, Disney+, and Prime in her free time. She loves to discuss plots, stories and characters – real and imaginary with anyone who enjoys it.